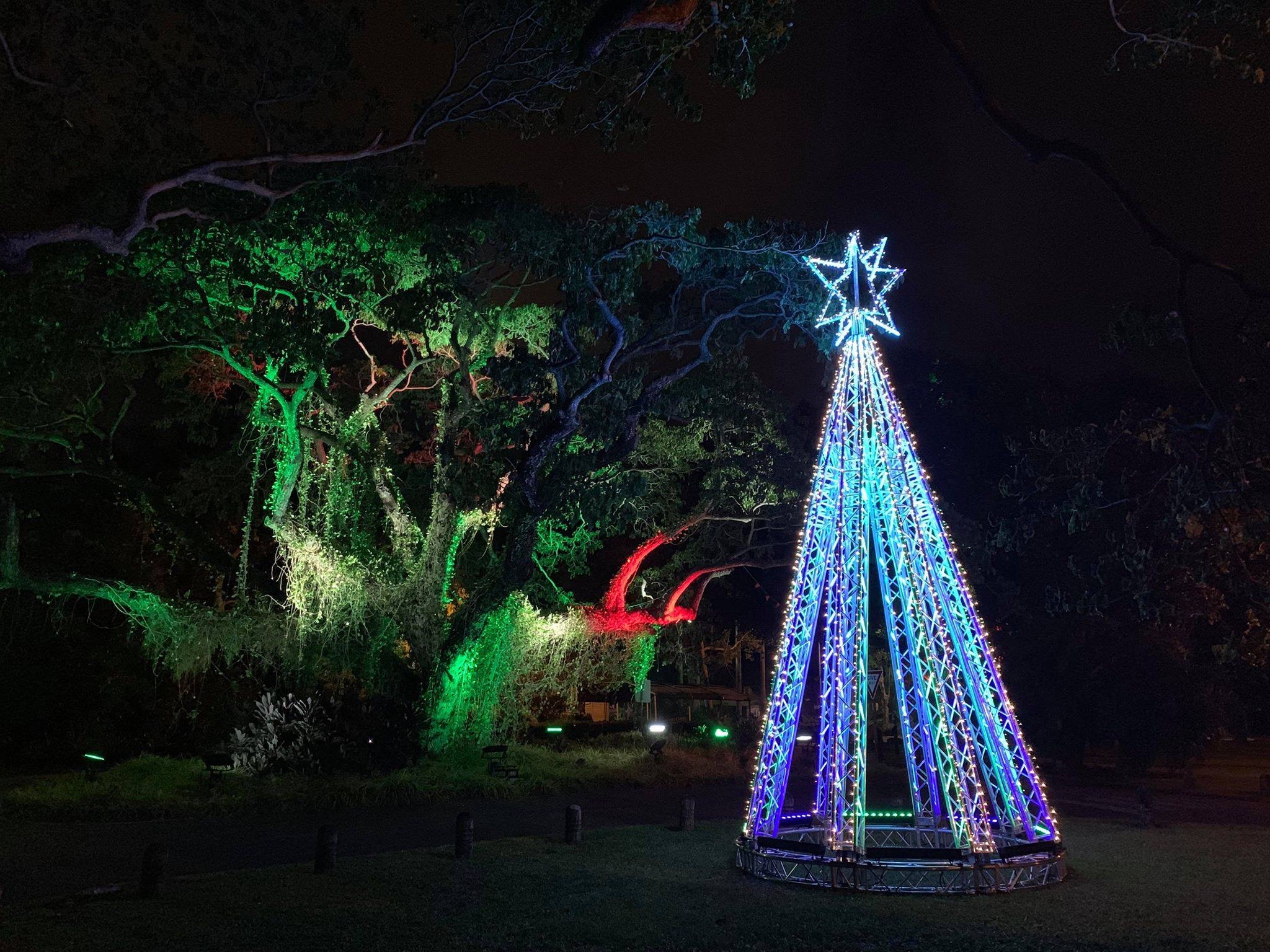 Global Truss lighting truss range is known as a very versatile system, capable of building an infinite number of structures. However, designing large outdoor structures can always be tricky, specially if the truss itself is used as an aesthetic element, rather than a structural frame for attaching lighting equipment.
Through a quarter of a century of experience, we have seen a few efforts to build Christmas structures out truss, including an iconic 8.3mH x 7.8mW truss star by Colin West in 2006. This time, Colin came to us with a brief for designing a large Christmas tree out of truss, to be erected in Darwin's George Brown Botanical Gardens during the festive season. The 8.0m truss structure needed to be made out of standard truss bits and easy to rig since it was going up only for a short period. If that is not enough, the Trussmas needed to withstand 187km/h storm in Drawin's extreme weather conditions.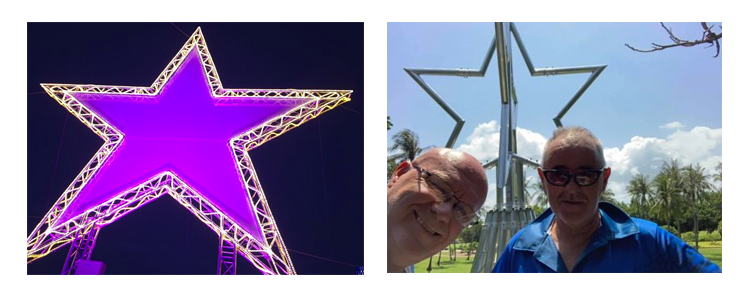 Trussmas is mostly build out of standard Global Truss parts. However, to make it special, we designed a truss star to go on the top of the 7m tall truss tree. The conical shape of the tree body was achieved using our new product, the GT F34 variable junction, which facilitates incremental connection of truss pieces from 0 to 25 degrees. To bring all the beams together, we also designed a special linear truss with box configuration on the bottom and flat configuration on the top. This created three different angles at the top of the truss tree, bringing everything together in one point. To compensate for all the angles, we designed and fabricated a special type of spigot adaptor that would zero out all the spatial angles and brings them to a flat steel plate on the top. "The entire structure came together beautifully, without faults!" Colin West, managing director of Total Event Services exclaimed.
The resulted truss tree was a robust structure which was also easy to rig. The complex design couldn't be possible without the valuable expertise of our design team and our in-house sophisticated 3D CAD software. Thanks to our advanced design facilities and streamlined manufacturing process, all the custom parts were made and delivered just in time for the season.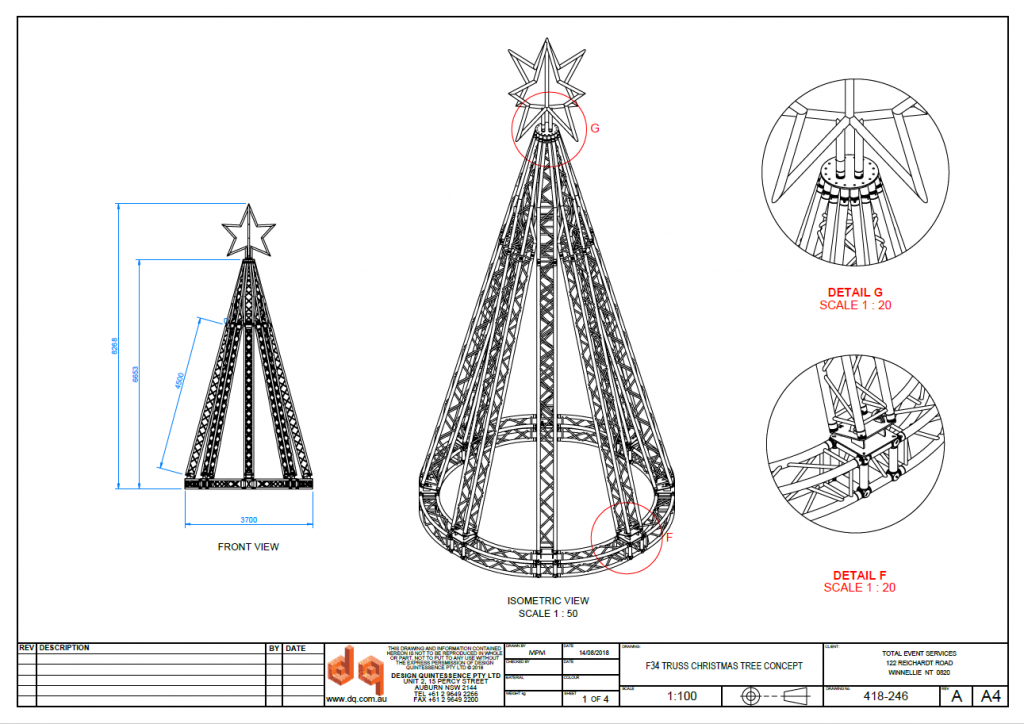 "Colin has one of the most creative minds in the country when it comes to truss structure concepts, we just have to work how to design and make it!", exclaims Ian Wood.
"For almost 20 years he has been he been pushing to design solutions to realise his concepts and he didn't let us down again this time with an 8m tall Christmas tree. Using a lot of standard pieces combined with some cleverly designed custom pieces and connectors we were able to provide a structure that went together 'beautifully'."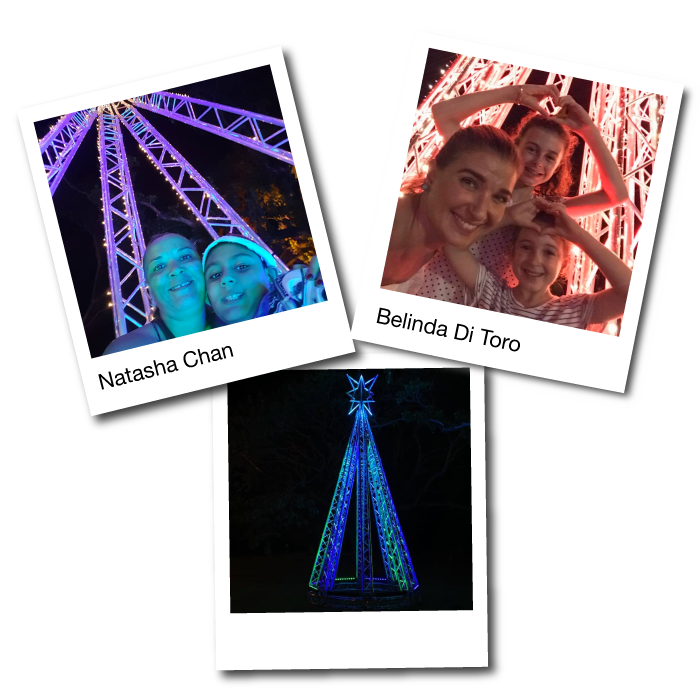 This Christmas was a first for the Northern Territory where Colin and the Total Events Services team hosted an event to celebrate the festive season as they lit up George Brown Botanical Gardens for a magical Christmas experience. The event attracted thousands of people which ran through from 17th to the 23rd of December featuring a Total Events Services specially designed and built train to transport everyone throughout the gardens.
To celebrate the achievement and to share the festivities with the visitors, we ran a selfie competition in collaboration with Total Event Services. Two lucky families who tagged #trussmas on their Instagram and Facebook selfies received $100 JB-HIFI vouchers.