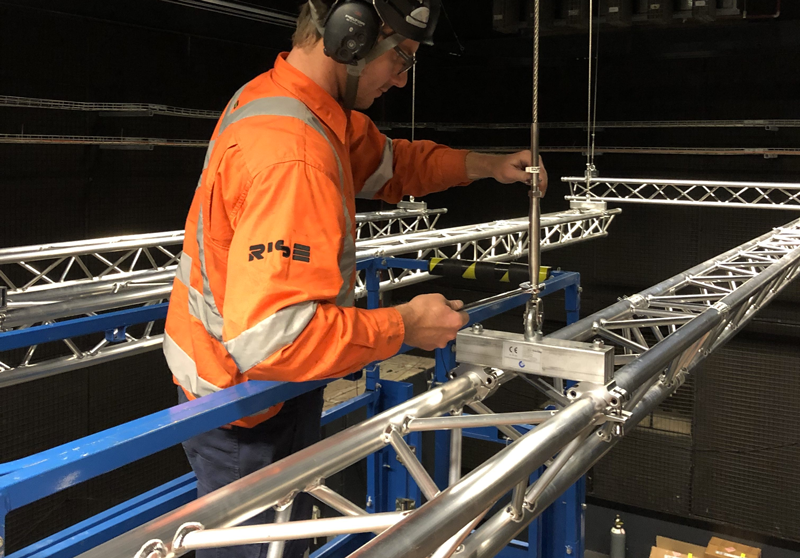 The Australian Home Shopping Network recently moved into Studio 1 at NEP Studios in Everleigh to set up its broadcast operations ahead of an August launch on free to air television.
RISE Pacific were approached to suspend a grid at NEP Studios for Fusion Entertainment Australia, which required interpreting the production requirements to the consulting engineers to achieve the best outcome for the client.
When they inspected the venue experiencing uneven venue space between the floor and the roof's steel work, having resources available from DQ's website meant that using detailed Global Truss engineering documents, RISE was able to assist their consulting structural engineers to certify the grid installation which had a total load of 6.0 tonnes.
"With the level of support DQ provides around the clock in assisting us with the detailed information we required, we were able to provide our client's with the peace of mind that we could combine a lot of high quality individual components to ensure the entire grid system was installed to the highest industry standard", says RISE Pacific's managing director, Clancy Simpson.
Combining their industry experience along with their rope access skill-set, RISE rose to the challenge to install temporary personnel high lines and access roof areas which were otherwise inaccessible via scissor lifts to ensure that the truss grid was evenly levelled throughout the venue.

Photo credit: Clancy Simpson

Photo credit: Clancy Simpson

Photo credit: Clancy Simpson

Photo credit: Clancy Simpson

Photo credit: Clancy Simpson

Photo credit: Clancy Simpson

Photo credit: Clancy Simpson

Photo credit: Clancy Simpson