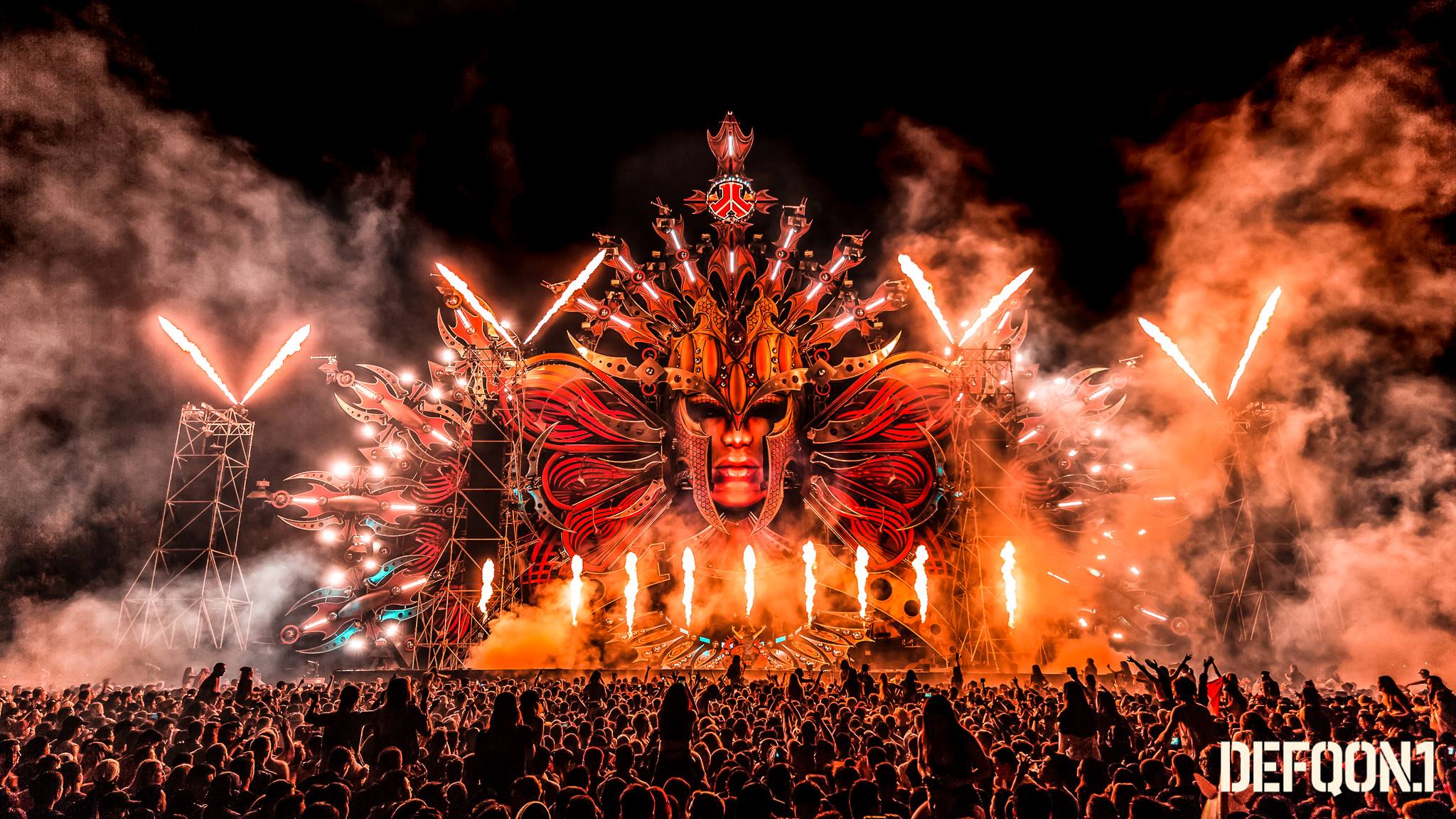 September 16th, 2017 marked one of most anticipated annual worldwide music festival in Sydney, Australia, that was, DefQon.1
Almost 24,000 partygoers sported their most bizarre outfits for Australia's wildest hardstyle music festival held at Sydney's International Regatta Centre for the 'Victory Forever' themed event. "Most of RED stage was produced in Holland and designed by Q Dance Holland and Q Dance Australia, the final result was certainly nice!" says Hans Bokkinga. Jake Kooi was responsible for RED Stage, Niels Betting and Frans Jansen were responsible for Magenta Stage and other stages were designed and produced by Tim Bestman.
There were five stages set up around the precinct in total, Blue Stage featuring a raging, Co2 snorting, Bull's skull (stage design and set up by Stagekingz – featuring F34 Global Truss circles), Magenta Stage (set up by Stagekingz), U.V. (set up by Stageset – featuring F34 Global Truss supplied by Crystal Productions), White (Piranha – set up by Stageset) Stage, and the main attraction, RED stage (set up by Chameleon Touring Systems).
"The entire rig consisted a mixture of Global Truss, we used half of an F54 9.0mØ and 15.0mØ circle to support her crown and a mixture of F34 and F44P as surrounding support rig for ", says Danyon McCue of Chameleon Touring Systems.
In its entirety, the rigging set was a compilation of 676 varied pieces of F34, F44P and F54 Global Truss, 289 Global Truss spacers, 70 Global Truss cubes and just over 3,200 pins & 'R' clips!
The other four separate stages each hosted a cluster of worldwide performers ranging from the hardcore techno, hard house and hard trance genres featuring the likes of Noisecontrollers & Bass Moderators, Brennan Heart, Evil Activities, Gammer, Firelite, Frequencerz, Archetypez and more.
DefQon.1 was founded in 2003 and was originally set up in the Netherlands before it was introduced to Sydney in 2009. Next year marks its' 10th year running.
Credits go out to the 4x Chameleon Touring Systems Crew helped build RED Stage
LX Crew Chief: Danyon McCue
LX Systems: Kareena Daws
LX Systems: Matthew Garrett
LX Systems: Dan Went.
Chameleon Account Manager: Toby Sewell.
LX Design: Frans Jansen
LX Programmer/Operator: Robbert-Jan Vernooij
RED Stage Credit: Jake Kooi
Magenta Stage Credits: Niels Betting & Frans Jansen
Other Stage Credits: Tim Bestman