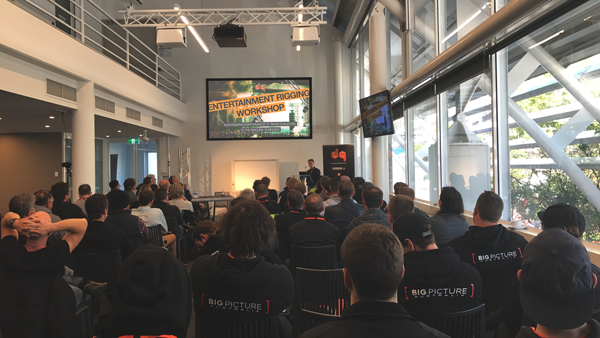 For the first time ever, Design Quintessence hosted two, one-day introductory Entertainment Rigging Workshops in Sydney and Perth on 18thand 20th of July respectively.
As the leading staging equipment supplier in Australia, Design Quintessence took the initiative to introduce a knowledge sharing workshop to present information and theory whilst giving attendees a voice with opportunities to ask questions and contribute their experience in a market that is currently lacking in industry-specific training.
"The workshops are a result of a push from customers and colleagues to provide a forum for the entertainment rigging industry that can help people improve their knowledge and understanding", explained Ian Wood, "The idea was to cover topics that were useful to both experienced and inexperienced people alike."
Four experienced presenters were assembled from Australia and abroad. The workshops were led by Nick Barnfield of ShowQuip in Auckland, New Zealand with support from Marco Stuve of Global Truss Corporation in China, Roderick van Gelder of Stage Safety in Sydney and Tony Peaker of Design Quintessence in Brisbane.
The two workshops were an outstanding success with both selling out well in advance and a total of just over 100 industry delegates across the two cities in attendance. These delegates included a variety of roles and experiences from church volunteers to riggers with extensive experience, from company owners to venue managers. Modules relating to the engineering of truss, practical use of truss, chain hoist lifting, debunking some myths and misconceptions and the Australian Entertainment Safety Resource Guide.
It was DQ's first attempt at running a workshop and they got off to a great start. DQ would like to extend their gratitude to everyone who attended for their participation and contribution and appreciate all the suggestions and feedback offered for future workshops. "It was a little rough around the edges but there was a lot of valuable information disseminated and plenty of discussion and debate that I think left us all leaving the room knowing a little bit, or even a lot more," Ian Wood reflected at the end of the two workshops. "If the demand is there we hope to build on this and introduce more workshops around the country on a regular basis."
DQ has started the conversation; let's keep it going …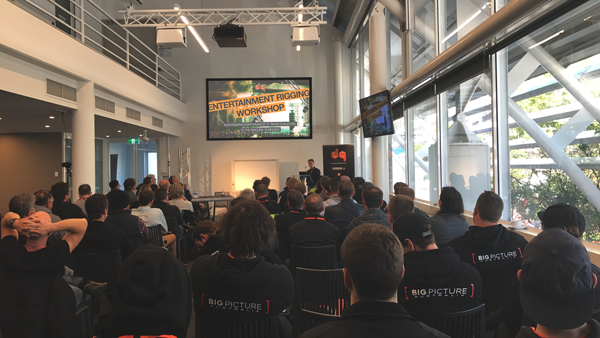 Click here to view Sydney Workshop photos
Click here to view Perth Workshop photos
Testimonials
"The workshop was great. I have been a rigger for 10 years, but learnt a lot and was a great conversation between a room full of riggers. If you run the event again, I will encourage my techs to attend."
Andrew Symons, Staging Connections WA

"It was the most informative workshop I have ever attended by a mile!"
David Rayner, Perth Audio Visual
"My team and I really enjoyed it. It was informative and helpful."
Cheonneth Strickland, Sydney Adventist Youth
 "All of it was informative"
John Sharkey, Lux Events
"Didn't expect the [detail in the] truss manufacturing [presentation] which was very beneficial"
Anthony Littlewood-Johnson, MaxCo Australia