WHAT STAGE SHOULD I USED FOR MY SCHOOL?
What stage riser should I use for my school?
Introducing GT Stage, the perfect portable/modular stage system solution for schools!
When looking for a portable stage solution for a school or educational institution, we recommend considering the four 'S' Principles – Safety. Speed. Stack Size. Supplements.
1. Safety
Safety is the most crucial consideration. GT Stage is manufactured to the high standards you should expect from a system that is sold around the world. It carries independent engineering certification for loads up to 750kg/m², evenly distributed. (That's 1500kg evenly distributed over a 2m long x 1m wide stage deck).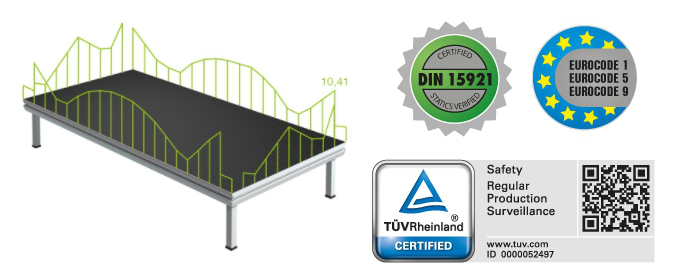 A big advantage of the GT Stage is its light weight – only 32kg for a 2m x 1m deck – making it one of the lightest stage decks on the market in the world today. Of course, this makes it safer for erection and dismantle with reduced risk of lifting-related injuries. The light weight also makes it more appropriate for handling by school students.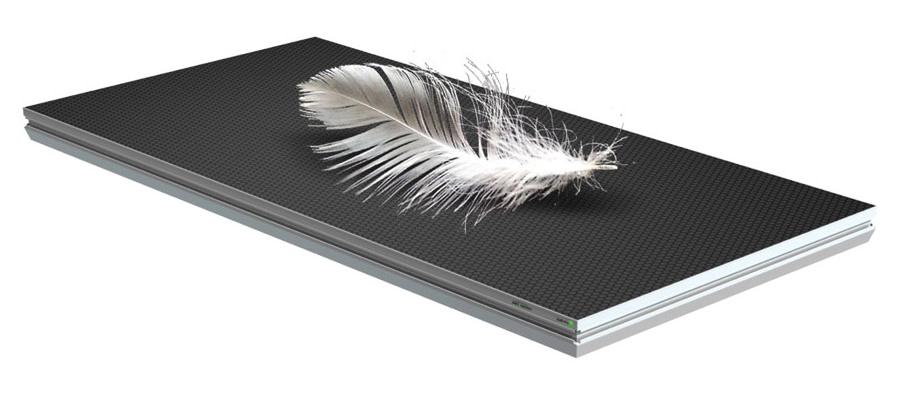 2. Speed
Often class time or turnaround time constraints mean speed of set-up can be very important. GT Stage requires no tools for assembly with legs, deck-to-deck and leg-to-leg clamps all tightened using hand knobs or wing nuts.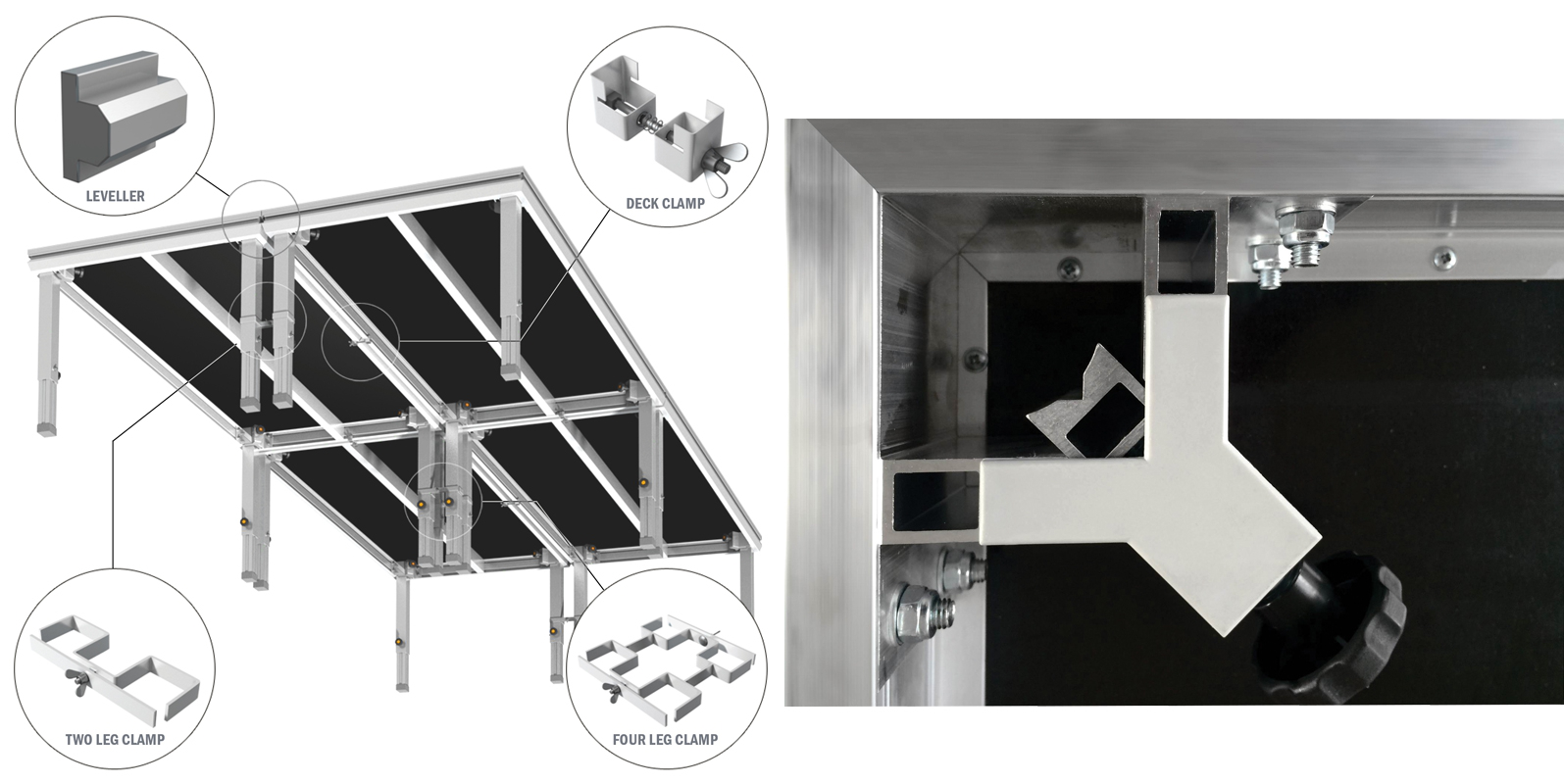 The toolless connection, compact size and light weight features of GT Stage all combine for set-up to be a very time-efficient exercise.
3. Stack size (Storage)
GT Stage has a low profile of only 89mm which makes it a very space-friendly stage deck to stack and store. When your storage capacity is limited, the GT Stage allows you to tick yet another box.

4. Supplements
Straight stage decks are not all that's required to make a modular stage system complete. Supplemental deck shapes and accessories such as  handrails, mobile legs, skirts and stairs etc all have a role to play. GT Stage offer all these accessories and more.
One of DQ's unique offerings to supplement the portable/modular GT Stage system is their fully compliant disabled access ramp system. Years of research and development have resulted in a modular disabled access ramp system that meets all code requirements.  We believe it is the only genuinely compliant stage ramp system available in Australia and is one of the essential components for any portable/modular stage system.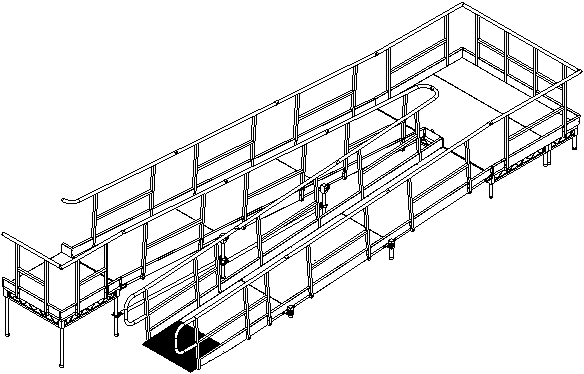 ---
DESIGN
Leading technology, software and on-site measurement to ensure the perfect fit and maximum protection and minimise your downtime.
---

In-house CAD/CAM
We use SolidWorks and CAMWorks, industry's best software in-house. Preparing complete 3D models leaves no unknown aspects before the case is ready to be manufactured. Ply and foam pieces are precision machined for every custom case using CNC router based on the finalised design.
Creative Solutions
Having high-quality equipment and structures shouldn't compromise the aesthetics and the possibilities you can do with it. Our creative team can customise and tailor our products to you, or even conceptualise your ideas into a reality.
On-site Measuring
Our team of designers are happy to visit you on sit to measure your equipment so you don't need to move the equipment without protection. A non-disclosure agreement can be signed to keep any sensitive information secure in case the measured equipment is in development stages.
---
BRANDING
Promote your brand whether

you're

on the move, seeing customers or displaying equipment.

 
---

Branding
Using our precision CAD/CAM facilities, we are able to brand your cases with your company logo. In addition to branding, engraving can be used for marking the contents of a case.
Custom Solutions
Collaborate with our creative designers to customise your next road case or truss structure. You could make a bold statement when presenting your equipment in colour, style and look with various options available to you.
Personalisation
Our bespoke customised road case labels branded with your logo and contact details are ideal for logistical information to help enhance your brand presence and manage your equipment better in full digital colour or black and white.
---
QUALITY
Built with the

highest grade

quality materials, our quality

is guaranteed.
---

Safety
Safety is an everyday focus for Design Quintessence and we make sure that all our structural products are independently certified. We engage structural engineering consultants regularly for various projects across the country. We have taken initiatives such as our rigging workshops to open up the conversations in the staging industry and support other initiatives where we can. Our pursuit of safe products and their safe use is unfaltering.
High-quality materials
Produced with premium aluminium and created to have the highest possible quality, Global Truss products are reliable and provides the rigging backbone of the projection surfaces and screens, projection equipment and sound gear for many installations. Ensuring your safety, it is tested by TÜV Nord to certify its state and quality.