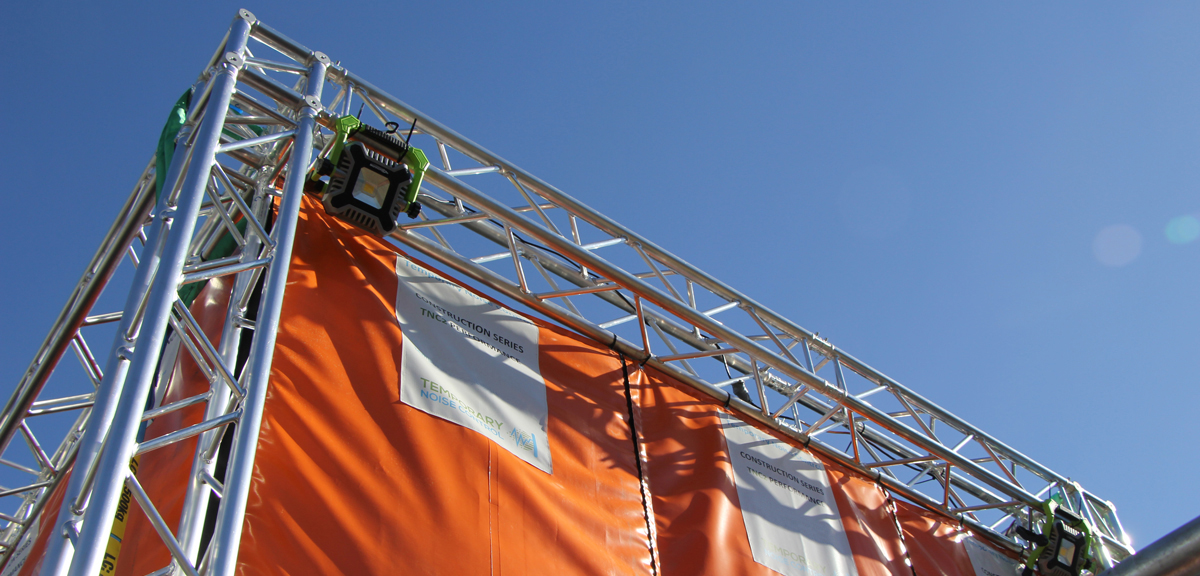 Licensed building contractors have recently approached DQ with an interesting brief. Over the last 2 years, they have had to face the challenge of having to construct temporary enclosures for their project sites. Design Quintessence were excited by the opportunity to venture into a different domain with Global Truss product family.
Their project brief required to have a cost effective solution for temporary enclosures and needed it to be erected and dismantled relatively quickly. This is usually done using pipe scaffolding, which is generally designed for supporting a work crew and materials, not building temporary enclosures.
These enclosures have various applications such as:
Soundproof enclosures for noisy equipment
Dust enclosures for equipment that produce dust or fumes
General enclosures for protection of workers from Sun, wind, rain
Enclosures to provide some form of visual barrier to screen works from residents
At Design Quintessence, we were able to quickly provide the contractors with a technical drawing and engineering documents of our standard modular truss system. They chose to go ahead with the F34 Square Truss as it had a wide variety of components to allow for various sizes and shapes. The F34 system is strong and with pre-engineered load ratings for the truss components made it an easy decision for them to make.
"We found the system to work well with no issues to date. The truss frame is used to support sound barrier mats to absorb and screen residents from high noise levels of our equipment," mentions their Site Engineer. "The Global Truss system is relatively clean, visually pleasing to look at and a lot simpler to install than a scaffold tube and fit frame — they're also a lot stronger and have better base plate and support options available."
This is the first time we have incorporated the Global Truss system into their set ups but have found that it offers some benefits to them in regards to its easy set up and installation to act as an alternative scaffolding system.
They have previously used the system as a sound enclosure for their Botany Project and have another project soon commencing in Northern Sydney where they will be using the system again with an expansion.
---
DESIGN
Leading technology, software and on-site measurement to ensure the perfect fit and maximum protection and minimise your downtime.
---

In-house CAD/CAM
We use SolidWorks and CAMWorks, industry's best software in-house. Preparing complete 3D models leaves no unknown aspects before the case is ready to be manufactured. Ply and foam pieces are precision machined for every custom case using CNC router based on the finalised design.
Creative Solutions
Having high-quality equipment and structures shouldn't compromise the aesthetics and the possibilities you can do with it. Our creative team can customise and tailor our products to you, or even conceptualise your ideas into a reality.
On-site Measuring
Our team of designers are happy to visit you on sit to measure your equipment so you don't need to move the equipment without protection. A non-disclosure agreement can be signed to keep any sensitive information secure in case the measured equipment is in development stages.
---
BRANDING
Promote your brand whether

you're

on the move, seeing customers or displaying equipment.

 
---

Branding
Using our precision CAD/CAM facilities, we are able to brand your cases with your company logo. In addition to branding, engraving can be used for marking the contents of a case.
Custom Solutions
Collaborate with our creative designers to customise your next road case or truss structure. You could make a bold statement when presenting your equipment in colour, style and look with various options available to you.
Personalisation
Our bespoke customised road case labels branded with your logo and contact details are ideal for logistical information to help enhance your brand presence and manage your equipment better in full digital colour or black and white.
---
QUALITY
Built with the

highest grade

quality materials, our quality

is guaranteed.
---

Safety
Safety is an everyday focus for Design Quintessence and we make sure that all our structural products are independently certified. We engage structural engineering consultants regularly for various projects across the country. We have taken initiatives such as our rigging workshops to open up the conversations in the staging industry and support other initiatives where we can. Our pursuit of safe products and their safe use is unfaltering.
High-quality materials
Produced with premium aluminium and created to have the highest possible quality, Global Truss products are reliable and provides the rigging backbone of the projection surfaces and screens, projection equipment and sound gear for many installations. Ensuring your safety, it is tested by TÜV Nord to certify its state and quality.