Nick Cave: Until, Carriageworks.

Image: Zan Wimberley 2018
When Carriageworks commissioned the exhibition 'Until', by American artist Nick Cave, they rose to the challenge with the help of an F54 Truss grid to suspend one major component of the installation, the 'Crystal Cloudscape'. Billed as Nick's most ambitious project to date, the 'Crystal Cloudscape' is a 12 metre long by 6 metre wide sculpture, weighing over 5 tonnes. The 'Crystal Cloudscape' has 17 chandeliers on the underside, and the top of the work is a sculptural landscape made from thousands of found objects – including porcelain birds, candelabras, a life-sized crocodile and hundreds of animal-shaped whiskey decanters. The work had to be suspended in a particular location from the Carriageworks heritage roof, so a large F54 Truss grid was designed, built and installed in the roof space to suspend this massive object.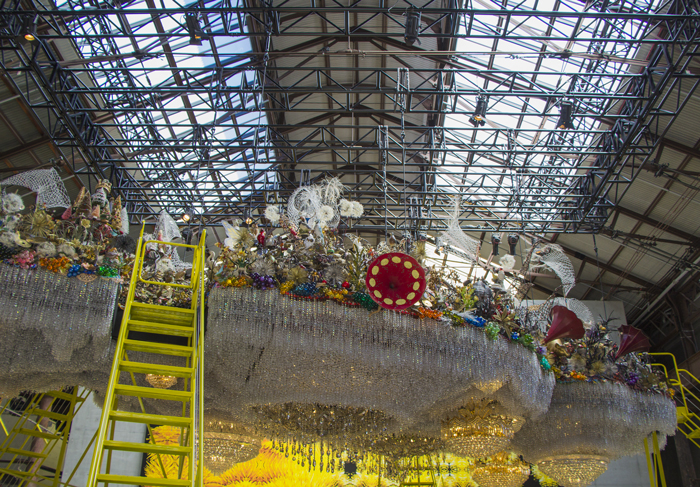 It was important that the truss did not detract from the visual value of the installation so it was powder coated in black and mounted high up against the roof which means it gets lost in the existing heritage listed roof framing and does not take away any of the visual intensity of the installation.
An interesting feature of the display tangibility to the observer where stairways lead up to the majestic artwork allowing the viewers to climb up and view it from above, immersing themselves in the artwork. This reveals the truss structure above and allows people to see the technical side of how a piece like this must be cleverly designed and rigged to hang in this wonderful space as elegantly as it does.
"It's great to be a very small part of a major exhibition such as this", says DQ managing director, Ian Wood. "My father did his apprenticeship on the railways in this building so seeing it here in Carriageworks has even greater meaning for me."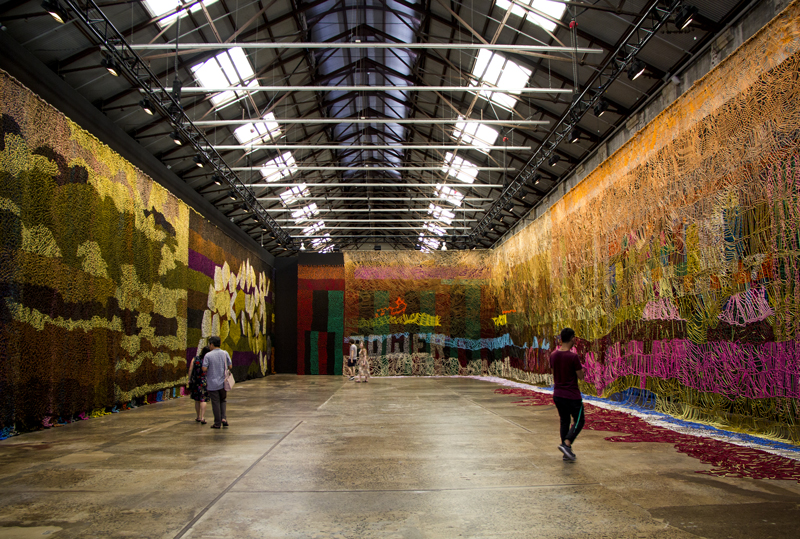 At Design Quintessence, we pride ourselves at supplying the most extensive range of products and solutions across the industry. Appreciation of our products by the expert eyes of the art community is just another proof for the quality of our solutions.
NICK CAVE: UNTIL is the result of a partnership between Carriageworks, the Massachusetts Museum of Contemporary Art (MASS MoCA) and the Crystal Bridges Museum of American Art, with the three organisations co-commissioning and co-presenting the project following four years development with the artist. In Australia the free exhibition will be seen exclusively at Carriageworks until 3 March 2019. This project is proudly supported by Major Partner Bloomberg, media partner The New York Times and Sydney Festival.
Source: carriageworks.com.au