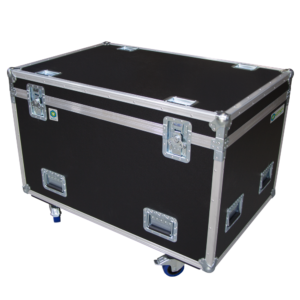 "I have looked at cases produced by many of the premium case manufacturers around the world, have even visited their factories, and I can

 

proudly claim the fully Australian-made Ovation brand is equal to the world's best."
---
Browse The Ovation Case Range Here
Australian Made
We have proudly taken on the challenge to establish case manufacturing facilities in Sydney, to design and build the custom protective cases for a variety of markets around Australia. With local manufacturing, the turn around time for fully custom cases is a fraction of the time needed for importing them. Additionally, our customers benefit from hands-on involvement with designing the smallest details of their custom cases, having their equipment measured and test-fitted locally, and a life time of support for the Ovation cases they buy.
3D Design
A strong design ethic requires a powerful 3D CAD software and we have that in SolidWorks, one of the world's leading 3D Design and Manufacturing CAD platforms. This leading software also requires a significant investment over multiple licences but a quality tradesperson doesn't skimp on his or her tools!
SolidWorks allows our designers to create solutions that simply work. It doesn't mean we rest on our laurels as we are constantly striving to improve our CAD methodology and are reviewing how the latest developments in CAD software can assist us in refining the design process even further.
Create
Similar to our investment in 3D CAD software, we are heavily invested in the latest and most sophisticated technological manufacturing tools and equipment ensure premium quality in-house case manufacture. Again, we continue to invest in new technology and equipment that will help us do our job better. We ensure that all our custom cases are tailored to your specifications and built with detail, precision and a level of care that produces the best protective solution for your valuable equipment.
Delivery
When your case order is built in our Sydney-based manufacturing facility, our experienced logistical staff will use the most appropriate delivery method to get your order to you safely and securely.
The Ovation Difference
What it is about the Ovation brand that sets the standard for your protective case solution?
We have already outlined what we do to make sure our cases are precision manufactured to a level deserved by your crucial equipment.
Of course, the other critical part of the quality equation is the materials we use to fabricate an Ovation case.
We use a globally respected brand, Adam Hall from Germany, to supply most of our road case hardware. As a pioneer of flight case components and over 40 years of experience and manufacturers of high-quality, robust case fittings, Adam Hall has established itself as a world leader providing comprehensive case hardware solutions along with a huge range of entertainment technology products.
We import our case hardware directly from Adam Hall in Europe.
Scandinavian Birch Plywood
The essence of a great case starts with the plywood used in its manufacture. We use specialised plywood from the best suppliers in the world. Birch plywood is the ideal substrate for case manufacture and the best plywood comes from Scandinavian countries and the Baltic states in Europe.
Our cases are primarily made from Scandinavian Birch, comprising dense layers glued together with DIN certified (DIN EN 204) D4 graded glue for maximum stability and moisture resistance. We have tested the plywood by immersing it in water and its resistance to moisture was outstanding. It is double laminated with a durable ABS plastic laminate on the outside and black stabilising foil lining on the inside. The outer laminate provides great resistance to damage and good camouflage of scratches and abrasions that may be experienced when the cases are transported across the country and around the world.
Extrusion
The aluminium edge angle extrusion we use for the majority of our custom cases tapers from 1.5mm thick at its edges to a market-leading, very solid 3mm thick at the corner where strength, rigidity and impact resistance is most critical. Furthermore, a recessed channel to accommodate the rivets provides additional protection to the factory head of the rivets.
The lid location extrusion we use is a solid 1.5mm thick increasing to be even thicker at the "V" shape of the male and female profiles making it very strong indeed.
Rivets
A rivet is a rivet, right? Well yes and no. We use industry standard aluminium rivets with stainless steel mandrels for assembly of much of our extrusion, handles, lid stays, butterfly latches etc.
Where we need to keep rivet penetration flush or close to on the inside of the case, we use premium quality Italian-made ribbed rivets that expand within the plywood. You won't notice this but we certainly do!
Ball Corners
For the majority of our cases, we have decided on the best heavy duty ball corner from the Adam Hall range. It's a galvanised 2mm thick 35mm x 35mm cranked steel corner with 9 rivet holes, not 6, and it will really take a punishing! The advantage of 9 holes that the rivets provide a stronger mechanical bond between ALL elements in the corner of the case, ie every plywood face and every separate edge extrusion angle.
It may take longer to assemble and cost more to use this ball corner but we believe it's worth it.
Castor Backing Plates
The most common case industry method for mounting castors is using 'T' nuts on a castor board or plate and on the base plywood skin of the case. We have changed our castor mounting method by using a castor backing plate on the inside of the case's plywood base. This creates four significant benefits, i.e.,
With the plywood base drilled specifically for the castor plate it provides a 'template' for precise positioning of the castor EVERY time.
Greatly increased surface area of the connection between castor and plywood makes it considerably stronger and almost impossible to knock a castor off under very heavy impact which might occur with just nutserts in plywood.
No risk of fixing bolts not being properly perpendicular when mounting the castor.
No risk of nutserts loosening then spinning in the ply after prolonged heavy use.
Label Dish
We install label dishes on all custom Ovation cases (may not be practical on small cases that are too small) which will protect case labels from scrapes and damage. Of course, we can also provide generic or full custom designed case labels for your business.
Castors
Castors are such an essential component in every quality mobile case. We recognise the importance of this and for almost every custom Ovation mobile case we choose premium castor brands Adam Hall or Tente for their German-manufactured castors to keep our cases rolling.
Handles
Most case manufacturers only use a couple of dish handles, regardless of the size or application of the case. However, we are very articulate about the handling and ergonomics on Ovation cases. Not only we design our cases based on the usage scenarios, we have a wide variety of handles to accommodate different applications and sizes. Ranging from various-sized recessed dish handles, surface-mounted handles, edge handles, and pull-out handles, they are all heavy-duty hardware with rivet protection features built into them. We use steel backing plates on our dish handles when extra strength is needed due to the weight of the case or the equipment it protects.
Inside Ovation Cases
Whilst the outside of a case takes most of the abuse during its life time, what's inside is equally as important in preserving the contents of the case. We use an arsenal of thoughtful solutions to design and manufacture the guts of Ovation cases.
We use high-density closed-cell specialty EVA foam to laminate and fit-out Ovation cases. All dividers and internal walls of Ovation cases are built out of equally high-grade plywood as the outside. We use a collection of steel braces, angles, aluminium channels and positive mechanical bonds such including rivets, screws, nails and adhesive to make sure inside an Ovation case matches the quality of its outer body.