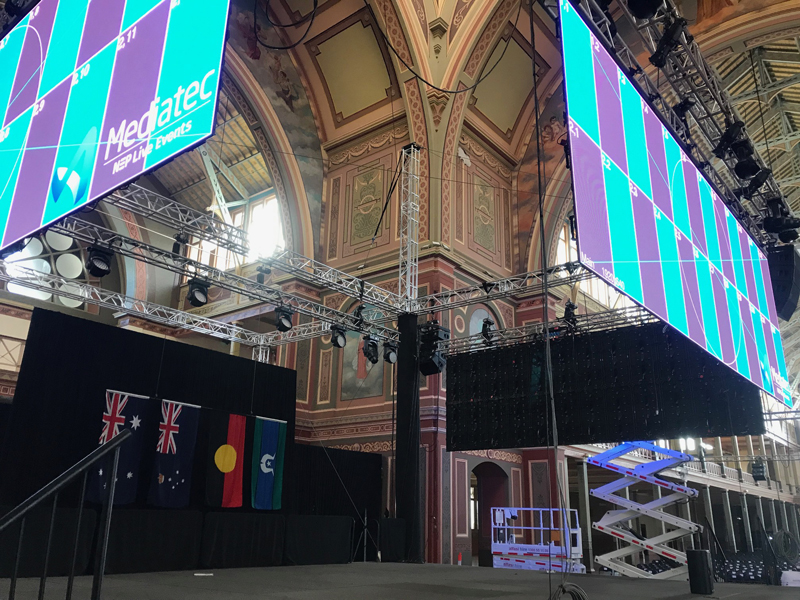 Despite our extensive range of standard solutions, DQ is always up for challenging tasks. Some of our best clients also share the desire for innovative problem-solving with us and have become close partners with DQ in solving unusual and difficult problems.
Recently, one of our loyal customers faced such a task which demanded a rather unusual truss structure. Diversity Rigging in Victoria was asked for an installation for Black Friday Bushfire 10th Anniversary Memorial event. The defined site lines however, didn't allow for any truss legs to support the truss structure!
Using our 'new' F45 Truss, Diversity Rigging designed a structure with a huge cantilever at the front to make room for media and guests on site. Using CAD models and Global Truss engineering documents, Diversity Rigging was able to assist their consultant structural engineer to certify the structure which had a load of 4.9 tonnes applied to each of the truss towers. This innovative solution was a bit of an engineering feat that complemented the grand space and facilitated honouring our community 10 years after the Victorian bushfire disaster.
Michael Petrani from Diversity Rigging called working with DQ "A good experience, as always". He was also happy to point our a few benefits of using Global Truss, indicating "more profitable", "swift stock supply by DQ" and "no lies" when it comes to providing information about the product.
This event marked the 10 Year Anniversary of the 2009 Victorian Bushfires which was one of the most significant disasters Victoria has experienced. The anniversary was a time to reflect and remember the 173 people who died in the bushfires, and to learn about how the fires changed the lives of so many, and how communities have rebuilt.

Victorian Government website
As the market leader for truss solutions across Australia, we pride ourselves in dealing with clients who are aware and articulate about the quality and safety of our products and we will continue to provide the market with the highest standards across the board so you can always shine on stage.