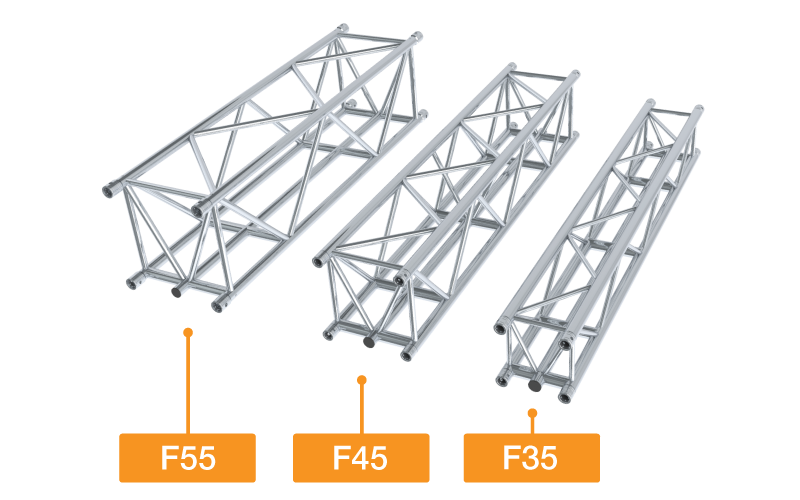 After many months of DQ working with Global Truss to develop a new 5 chord truss especially designed for the suspension of LED screens, we are pleased to announce that Global Truss will be launching the new F45 Truss at Pro Light + Sound in Frankfurt, Germany, 10-13 April 2018.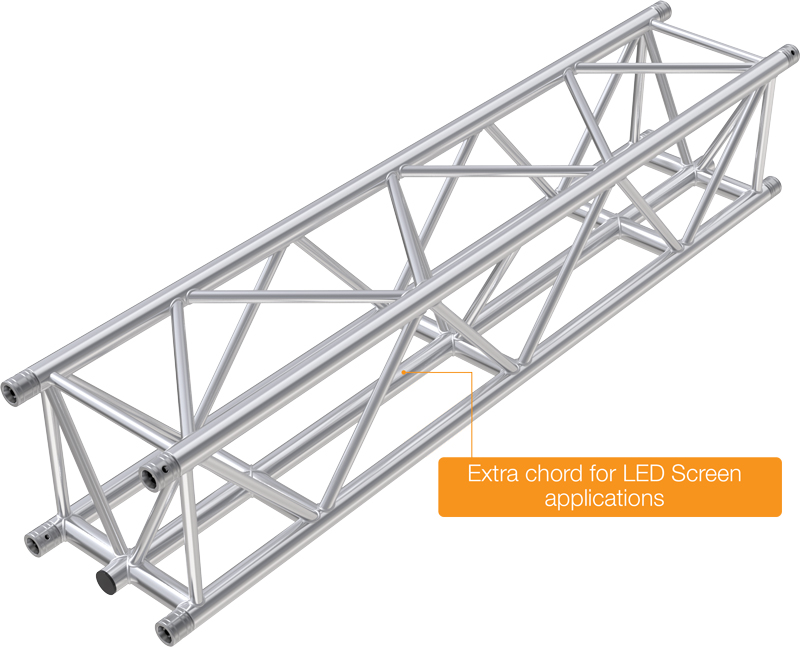 Click HERE to download F45 Truss Information and Technical Specifications
The F35, F45 and F55 Truss are based on the F34 290mm x 290mm, F44P 400mm x 400mm and F54 520mm x 520mm truss design and, as mentioned, is designed for applications such as LED screens where balanced centre rigging of the screen panels on the truss is essential. A central chord with ladder-style horizontal bracing on the bottom face of the truss allows LED  panels to be clamped directly onto the centre chord. This negates the need to balance the load by slinging or bracing across the two bottom chords to provide central rigging points as would normally be necessary on a square format truss.
Patrick Withers from The Music Box is clearly impressed, "On our first test build we found around an 80% saving in labour attaching the first row of a 10m wide screen simply because we could clamp directly onto the centre chord." Adding, "…and there was no adjustment necessary. It's a no-brainer!"
When Mish Bosnjak of 
Nitezone Entertainment Services
 heard about the development of the F45 Truss, he too was overly excited for its potential use in upcoming future events.
 "Not only would it be limited to the use for hanging LED screens alone, but also lighting rigs which could be incorporated into any F44P structural application!."
The ladder-style horizontal braces creates increased clear hanging space along the chord compared to the hanging space on outer chords. Clamping screen panels directly to the centre chord results in a cleaner and sleeker look as well. Because it is based on the F44P Truss design, F45 Truss can connect to all standard F44P junctions or sleeve blocks so you use your existing F44P Truss to build the rest of the structure!
"We can see the F45 Truss being used for general lighting and AV setups as it makes it so easy to balance your load", Patrick commented. Future development of truss accessories will ensure further expansion of F45's possible applications.
---
DQ recently supplied Gold Coast Convention Centre with 30m of F45 5 Chord truss and GCCEC's Executive Manager – Technology was thrilled about the benefits of the truss system:
"The F45 streamlined the bump in and bump out process of our LED screens. By providing a 5th central chord, it is easier to centralise the load preventing truss roll and reduce the amount of slings required to balance an LED Screen Truss. Overall, there is less labour required and less potential points of failure in the rig." exclaims GCCEC's Executive Manager – Technology, Ben Morris.
---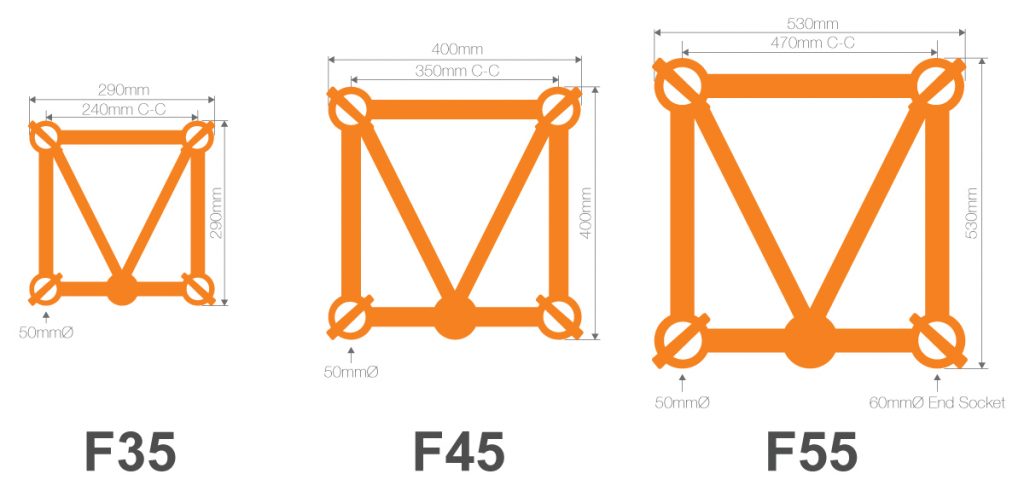 | | | | |
| --- | --- | --- | --- |
| Specifications | F35 | F45 | F55 |
| Chord Material | EN AW 6082 T6 | EN AW 6082 T6 | EN AW 6082 T6 |
| End Socket Material | EN AW 6082 T6 | EN AW 6082 T6 | EN AW 6082 T6 |
| Bracing Material | EN AW 6082 T6 | EN AW 6082 T6 | EN AW 6082 T6 |
| Conical Spigot Material | EN AW 2011 | EN AW 2011 | EN AW 2011 |
| Chord Dimension | 50mmØ x 4mm | 50mmØ x 4mm | 50mmØ x 4mm |
| Bracing Dimension | 20mmØ x 2mm | 25mmØ x 3mm | 30mmØ x 3mm |
| End Socket Dimension | 50mmØ | 50mmØ | 60mmØ |
| Connectors Included | 4 x Conical Spigots, Pins & R-Clips | 4 x Conical Spigots, Pins & R-Clips | 4 x Conical Spigots, Pins & R-Clips |
| | Download F35 Spec Sheet | Download F45 Spec Sheet | Download F55 Spec Sheet |